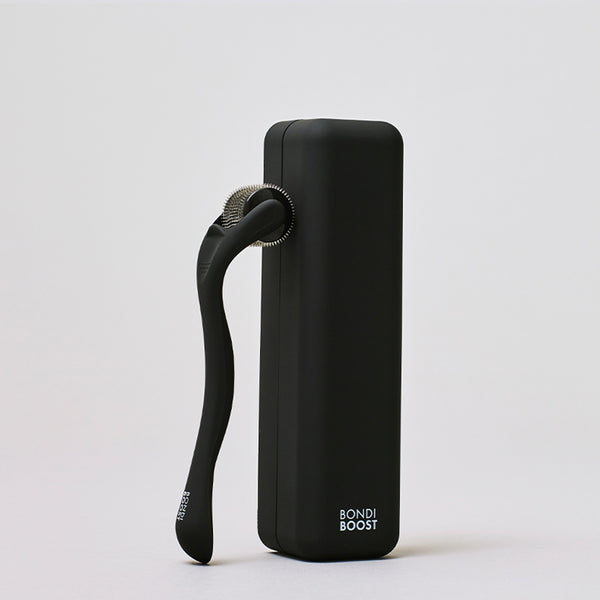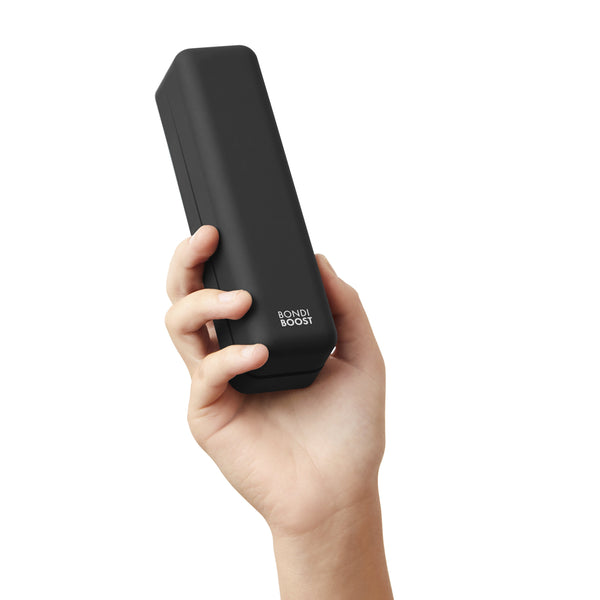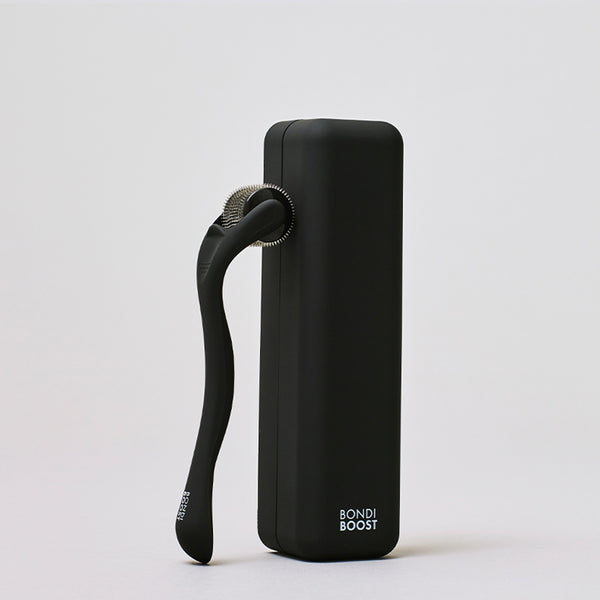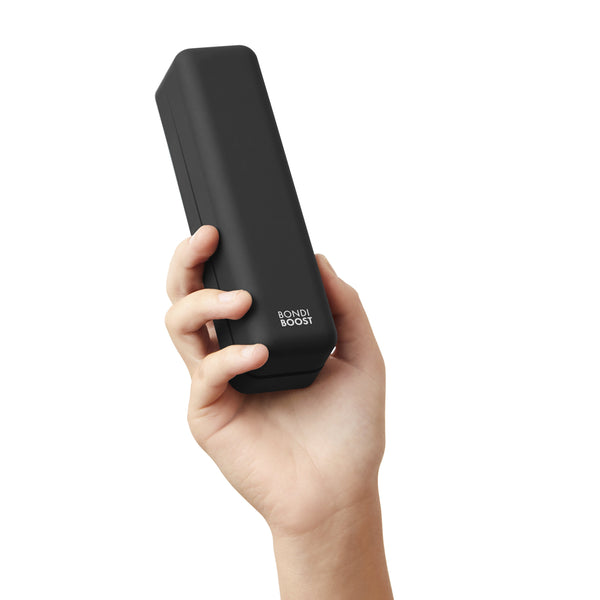 Whether you're interested in stimulating hair growth or dealing with hair loss, we're here to support you. This root-boosting premium derma roller - custom designed in a sleek, sexy box (perfect for your bathroom shelfie) is clinically proven to treat hair loss and stimulate hair growth, especially when used with combination therapy. 
Made with 540 high strength medical grade stainless steel needles (1.5 mm in size) for premium performance. When in use, these needles create "micro-injuries" in the skin and follicles, releasing growth factors to stimulate new cell production, encouraging the growth of new hair.
For best results: Use once per week - do not use until the treated area has completely healed. 
Directions: We suggest to lightly wet and comb hair before use to stop the hair from getting tangled. Part hair in sections and using gentle pressure, roll the dermal roller back and forth 3-4 times horizontally, vertically and diagonally. Temporary redness may occur. Slight tingling/stinging sensation may be felt.
After use, Please see the below directions for cleaning your Derma Roller:
Rinse your derma roller under warm water for 2-3 seconds.
Pour Dettol or Isopropyl Alcohol in a small dish.
Soak your derma roller for 60 minutes to thoroughly clean. As the cleaning agent contains alcohol, it's recommended to use only on the needles and be careful not to get any on the plastic.
Rinse your derma roller with warm running water for 30-60 seconds.
Lay your roller upside down on a paper towel and let it air dry.
Place back in your container.
Use the derma roller once per week – do not use again until the treated area has fully healed. Replacing your derma roller is recommended when the needle feels blunt.
All standard UK orders over £65 ship FREE.
You have other things to worry about, the shipping of your BondiBoost products shouldn't add to it. That's why we keep our shipping policy for orders shipped within UK and over £65 - simple and free. 
Feeling impatient? We got you. Select express shipping within UK for just £6.99. 
Standard shipping £3.99.
The Serious Stuff: 
All packages are delivered Monday through Friday. 
We try to ship all orders same day if placed before 10 am AEST; however, some orders may take longer.  
All standard orders ship with Royal Mail.
All express orders ship with Royal Mail.
Royal Mail is now commencing Sunday deliveries in the UK, your package may arrive on a Sunday.
In the unlikely event you need to return something, please checkout our Return Policy.
If you're not satisfied, we're not either – that's why we offer a 30-day money back guarantee. Yep, we'll happily refund your cash on any of the BondiBoost range if you're not completely happy with our products after a full 30 days. For more information on our refund policy or to start a return please click here.
FAQs
Our products are gentle enough to be used daily, but we don't recommend over washing as this can dry out your hair and strip the scalp of its natural oils. Therefore, for normal hair types, we recommend washing 1-3 x per week. For dry hair types, we strongly recommend washing 1 x per week.
Our products have not been specifically formulated or tested for pregnancy or breastfeeding Mammas. It's best to reference our listed ingredients with your doctor before use.
Yes! We don't contain any DEA (diethanolamine), MEA (monoethanolamine) & TEA (triethanolamine), sodium chloride, parabens, sulphates, silicones, petrochemical cleanse, drying alcohols, ethanolamines, butoxyethanol, formaldehyde, mineral oils, BHA + BHT in our products. Many of our products are fragrance-free or naturally scented and over 98% natural with many organic ingredients. We're vegan friendly, cruelty-free and safe for chemically and colour treated hair.
While our products are very gentle and over 98% natural, they're not formulated for children. Please review the ingredient list with your doctor first to alleviate any concerns.
WHAT OUR CUSTOMERS
ARE SAYING
Product reviews are provided for informational purposes only and reflect solely
the views and opinions expressed by the contributors and not those of BondiBoost.
We do not verify or endorse any claims made in these reviews.